Introducing Tim MacCartney as our Senior Vice President for APAC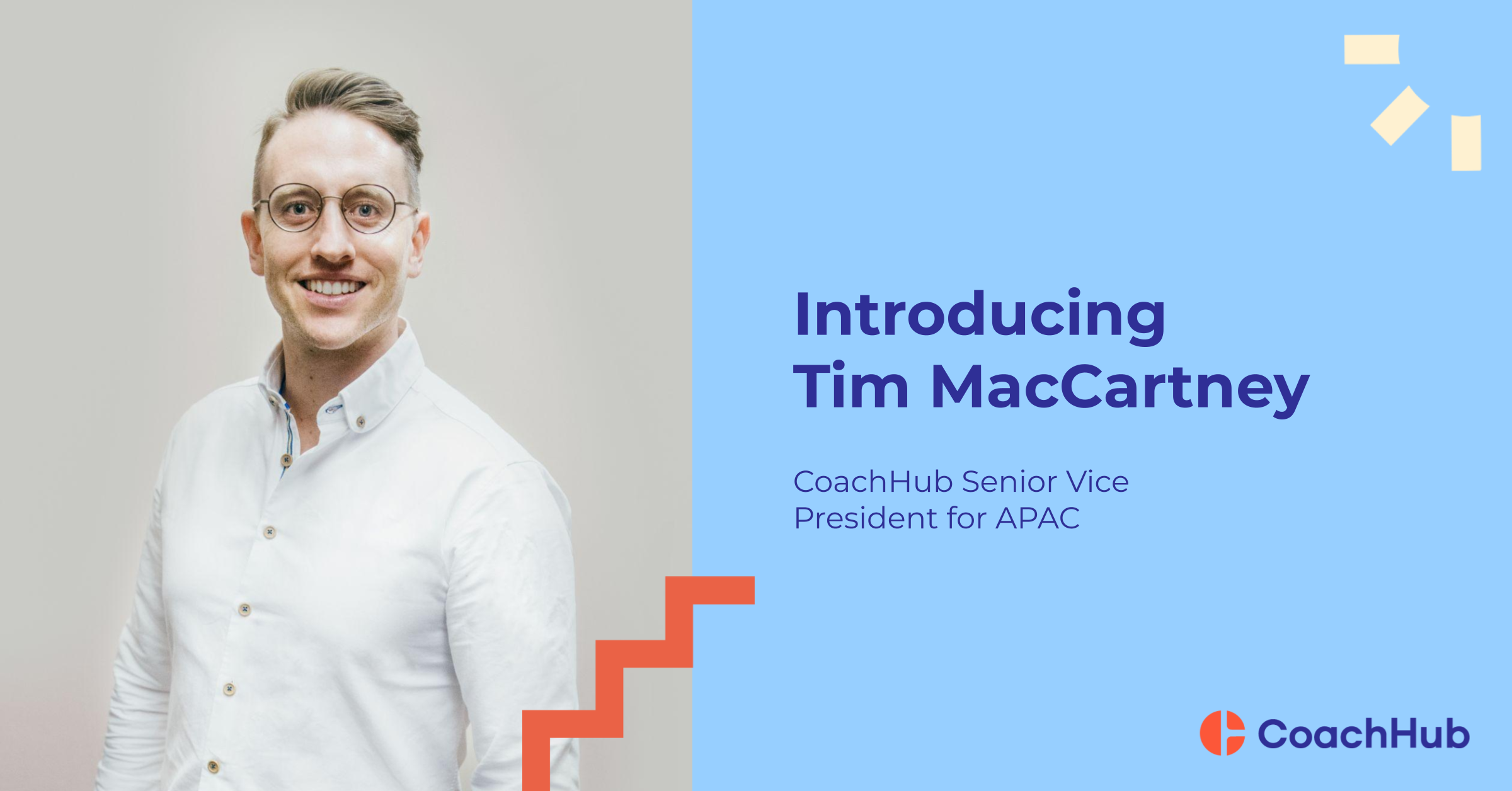 November 8, 2021
Tim, can you share a little bit about yourself and your background?
Hi, I am Tim MacCartney, I am from Melbourne and I have been in the talent space my entire career. In the beginning, I started working for a company called CEB, now part of Gartner, where I delivered research subscriptions, insights and strategic tools to HR Directors, L&D and Heads of Recruiting, and then the wider C-suite across Europe. We primarily focused on how clients manage their business and people, which eventually led me to relocate back to Australia where I built out the Australia and APAC business for CEB [Gartner]. 
After doing that for some time, I got married and had a couple of kids and we decided to move to Singapore where I have been living the last 5 years. What's amazing about Singapore is that it's a regional hub – it's a great springboard for companies operating in all of APAC. From a career point of view, you really get to do some interesting things. For instance, I have been leading and building large commercial teams across the region. And from a client point of view,  you get to be there with executives when they are making decisions that affect millions of people from China to India. 
What excites you about joining CoachHub?
I think it's a natural progression in terms of the types of challenges I've taken on and it's a really nice opportunity for me to build something that's pretty special in the market together with CoachHub. I've always worked in larger companies that have been around for many years and have already established processes and procedures, which means as a leader, I've always tried to improve the situation that I stepped into. Now being at CoachHub, I have an incredible opportunity to define our APAC approach. For me it's just a really motivating opportunity to join a company that's fast, growing, has investment, and that's doing something different in the market. I am really enjoying it so far.
What does coaching mean to you and have you benefited from it before?
I have – I have had coaching provided by a prior company at two points: 1) when I took on a significant business development opportunity where I was launching new subscription offerings into the APAC mid-market space; and 2) when I had discussed with my manager that I wasn't sure of my career path and considered leaving.  At both times, I was given an executive coach  and they were super helpful.  I actually continue to engage the second coach and consider her a really good mentor.
As a Senior Vice President, what is the importance of good leadership?
I definitely subscribe to the notion of authentic leadership, which is just trying to be true and honest to yourself and making sure you are exhibiting that with everyone you are engaging with. I think the recent Covid-19 environment has been difficult for all of us.  Most recently, I worked for a business that went through five rounds of redundancies and you always have that feeling that you would lose your job, and I saw that fear in the teams I managed across APAC. I believe that employees have learned from that and  the recent trend labeled "The Great Resignation" is really true because people want to find environments where they feel comfortable, respected, can contribute and at the same time drive performance. Those are all the values that inspire me and the values I expect my team to have of me. And at the same time, just keeping it fun. That's the excitement of a business that's growing, it's fun. It gives you great personal development opportunities and team opportunities and we get to recognize that. 
Do you read any books on the topic of leadership and well-being?
So the book I really have been enjoying this last year is called "The Happiness Advantage", by Sean Achor. Someone first recommended the book to me and I have since been recommending it to other leaders, and my wife has read it and is giving it to her leaders. It's such an easy concept to understand and it's one that I like to practice. 
It focuses a lot on positive psychology and building the best teams, which tends to be happy teams. Some of the key takeaways is that it's about trying to stay positive at all times and trying to find fun. And if you can obtain a reward or celebrate and banter with people, it creates a sense of cohesion that drives great performance. It's backed by data and statistics, which is wonderful. My early observations at CoachHub  is that we have an amazing, positive, celebratory and engaging culture. As a leader, this is exactly where you want to be. You only can get the performance you want if people feel that their contributions are worth something.
What impact do you think digital coaching will bring to businesses in APAC?
There's huge potential. Coaching is still seen as something that's available for the top few in APAC. The team we have on the ground right now is spending a lot of time introducing the concept of coaching and I think we'll be continuing to do that.. When you think of a lot of the Asian countries, it's a really hierarchical corporate system. So with our goal being to unleash everyone's potential, I think it will really help break down those siloes and archaic models. A lot of these companies know that to be competitive in the talent war, they need to adopt some of the Western style of people management. 
What are some of the toughest challenges companies are facing, specifically in APAC?
I certainly believe APAC is a "talent-driven" market and coming from one of the world's largest executive search firms, the recruitment business was and is booming.  There are so many people trying to find new jobs that align with their own purpose and values, and companies everywhere are hiring like crazy.  However, the cost to a company of hiring and developing new talent  is really significant. Employees today  want something different: they want flexibility, they want to be heard, they want to have their own plan and path. And concepts like, "All you can eat learning," like LinkedIn Learning or offering countless hours of e-learning content is taking on a Netflix effect – too much information that's not individualized or tailored. Many L&D leaders are reacting and checking a box, instead of actually solving problems. To sum it up, all the same talent challenges exist in APAC as they do anywhere around the world. Which include: retaining, developing, driving high performance cultures and more.
Outside of work, what is it that you like to do in your free time?
My wife and I have 4 children now, two of them are twins that were born in January. So, naturally, I like to spend time with my family as much as possible, mostly around the pool as Singapore is still under restrictions. With the borders opening up, we're really looking forward to getting back to travelling. I used to be a big promoter of travelling with kids when there were only 2, but now that we have 4 we'll see how it turns out. My family and I used to try to travel around APAC at least once a month, so hopefully we can get back to that soon.