CoachHub partners with EMCC Global to reinforce industry ethical standards worldwide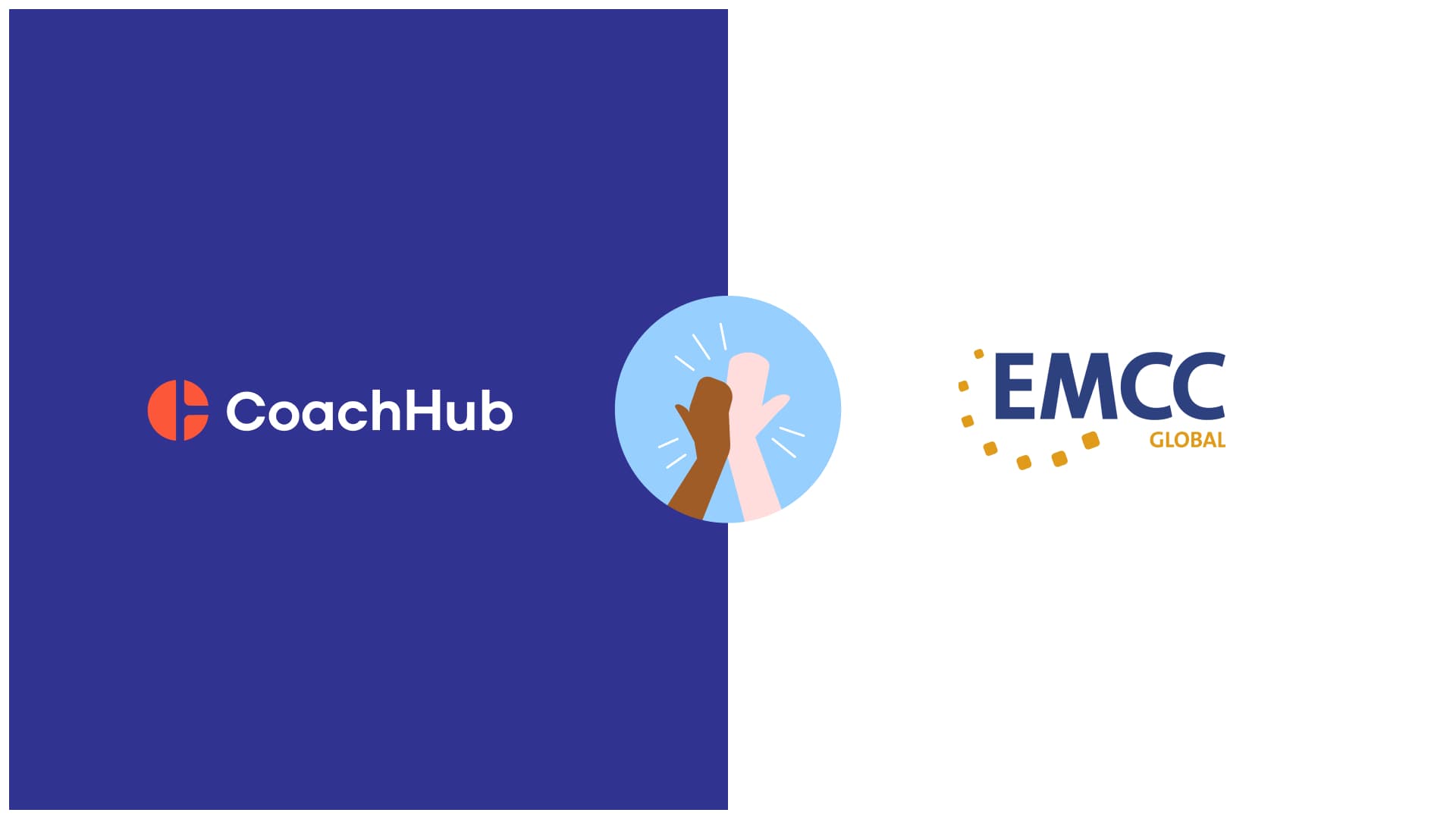 Digital coaching leader CoachHub has signed a strategic agreement with the largest coaching professional membership organisation to build a brighter future for coaching.
LONDON, UK, 12 May 2022 – CoachHub, the global leader in digital coaching, announces today a new strategic partnership with the EMCC Global. EMCC Global is a professional membership body that sets ethical and accreditation standards for the coaching industry and supports its members with professional development.
CoachHub is embarking on a five-year global agreement with EMCC Global, during which time the two parties will collaborate on their shared endeavour to raise professional standards in the coaching industry. The partnership is the first of its kind between the global professional body and a global coaching company, marking a unique step forward within the coaching industry.
Specific projects include a collaboration on research and development as well as improvement of standards for digital coaching, along with work on diversity and inclusion within the industry.
"I am delighted to continue our work to democratise coaching through a partnership with the EMCC Global, an organisation that plays a key role in our industry, supporting the development of standards," said Professor Jonathan Passmore, SVP of Coaching at CoachHub. "The relationship is unique in its scope and demonstrates EMCC Global's recognition of the growth and significance of digital coaching."
CoachHub will also add to EMCC Global's coaching development focus, through the provision of webinars and other digital resources, giving coaches access to expert knowledge and experience from a world-leading digital coaching provider.
"I will be leading CoachHub's Coaching Lab in partnering with EMCC Global's research committee on a number of research projects, with the aim to develop a more inclusive and innovative coaching industry," adds Passmore.
Since its creation in 2003, EMCC Gobal's vision is to develop, promote and set the expectation of best practices in mentoring, coaching and supervision globally for the benefit of society. Its vision is to be the "go-to" body in mentoring, coaching, and supervision.
"Technology and new business models are changing every aspect of our daily and business lives. In this respect, the growing presence of platforms in the coaching market offer various opportunities and challenges" said Dr Riza Kadilar, EMCC Global President. "EMCC Global exists to develop, promote, and set the expectation of best practice in mentoring, coaching, and supervision globally for the benefit of society. In line with our purpose statement, we greatly value our collaboration with CoachHub as that will pave the way for evidence-based research to enhance the value proposition of this new business model to all stakeholders."
"Working in such close harmony with EMCC Global is an energising next step in CoachHub's growth journey," said Yannis Niebelschuetz, CEO at CoachHub. "The opportunity to collaborate with the organisation on research will offer unmatched insights into the field. We're driven to develop a coaching industry which is inclusive of all people, reflecting our mission to democratise coaching."
Find out more about CoachHub's Coaching Lab at www.coachhub.com/coaching-lab
About CoachHub
CoachHub is the leading global talent development platform that enables organisations to create personalised, measurable, and scalable coaching programmes for the entire workforce, regardless of department and seniority level. By doing so, organisations are able to reap a multitude of benefits, including increased employee engagement, higher levels of productivity, improved job performance and increased retention.
CoachHub's global pool of coaches comprises over 3,500 certified business coaches in 70 countries across six continents with coaching sessions available in over 60 languages, to serve more than 500 clients. CoachHub's programmes are based on advanced R&D from our Coaching Lab, led by Prof. Jonathan Passmore and our Scientific Council. CoachHub is backed by leading tech investors, including Draper Esprit, Holtzbrinck Ventures, Partech, RTP Global, Signals Venture Capital and Speedinvest. In September 2021, CoachHub acquired French digital coaching pioneer MoovOne to build a global champion focused on jointly democratising coaching.
Contact: press@coachhub.com
About EMCC
The EMCC is a global coaching, mentoring, and supervision association established in 1992.  EMCC is made up of Affiliated Countries & Regions in Asia Pacific, Belgium, Croatia, Cyprus, Czech Republic, Denmark, Finland, France, Germany, Greece, Hungary, Ireland, Latin America, Italy, Luxembourg, Netherlands, Norway, Poland, Portugal, Romania, Serbia, Slovenia, Spain, Sweden, Switzerland, Turkey, Ukraine, and the United Kingdom.  We have over 10,000 members across more than 86 countries world-wide.
EMCC exists to develop, promote, and set the expectation of best practice globally in mentoring, coaching, and supervision.  Our vision is to be the 'go to' body in mentoring, coaching and supervision.
For more information on EMCC visit www.emccglobal.org
Contact: administrator@emccglobal.org