Now is the time to develop and accelerate women in leadership programs
Now is the time to develop and accelerate women in leadership programs
CoachHub ·
23 April 2020 ·
5 min read
April 17, 2020
In this time of adversity many of us are increasingly turning to our leaders for guidance. Whether that be your manager, your parents, your government or your coach. One thing that has been made clear through this unprecedented period is that female leadership has prevailed in one of the most critical moments in our lifetime. Albeit there is only approximately 10% of countries in the world led by females, making the comparison in gender differences less conclusive. However there has been global recognition for our female leaders in their handling of the pandemic we are facing. What we can confidently suggest is that the performance of countries with female heads is extremely positive.
The best decisions are made based on different experiences and cognitive diversity; leadership is a collective effort. This is an ethos many women (and men) in leadership positions share, to empathize, not command, to listen, not dictate. It is easy to assume progress in gender diversity in the workplace, given the increasing amount of media attention it has received. However, we are by no means there yet. We need to use time to reflect, change our perception towards women in leadership and address the issues.
The hard facts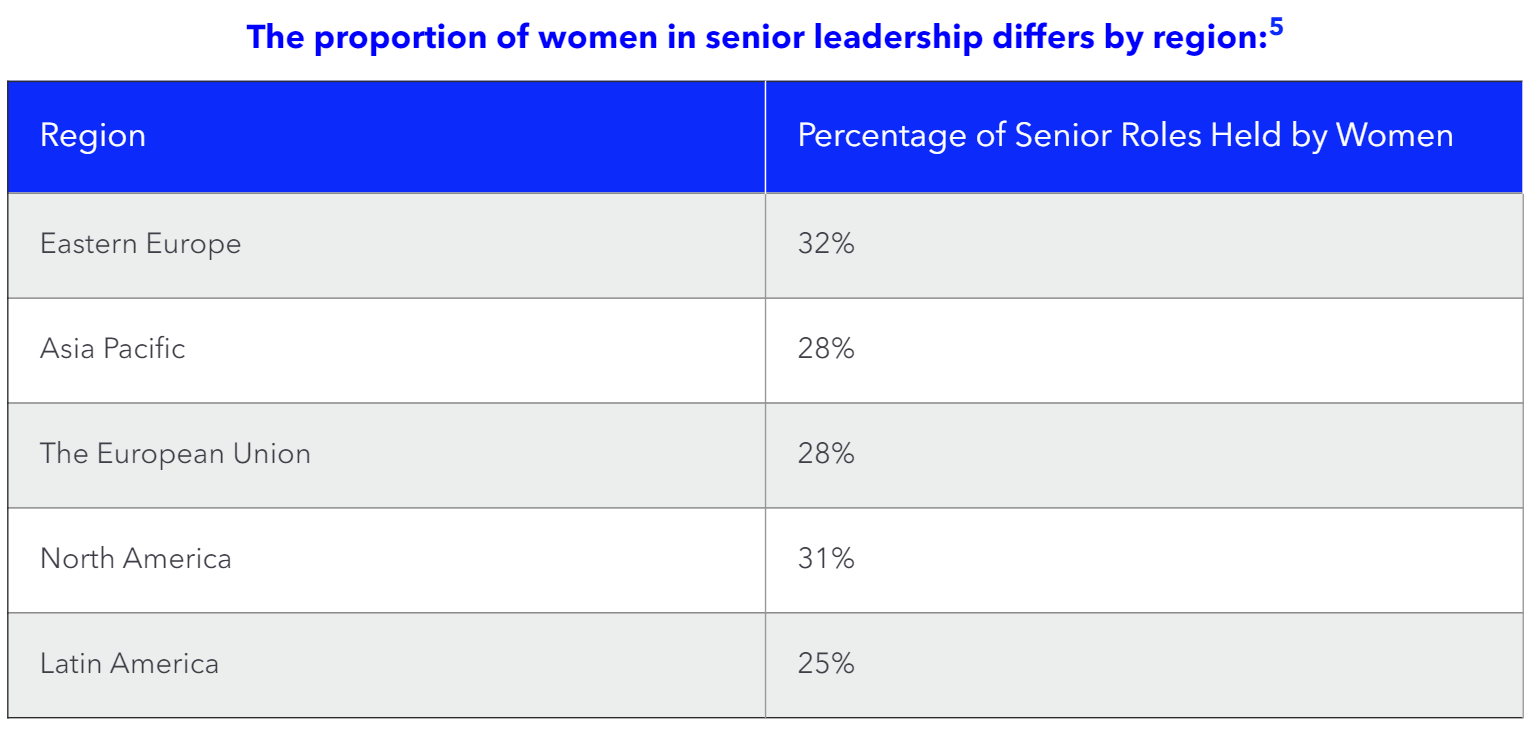 Women hold only 19% of board seats and 15% of executive officer positions at Fortune 500 companies. Only 4% of these companies have female CEOs and women's board tenures are found to be shorter. When it comes to salary, entry-level females make 20% less than their male counterparts and according to the Chartered Management Institute and XpertHR, men are 40% more likely to be promoted to senior positions.

Image source: Catalyst: Women in Management Quick Take, 2019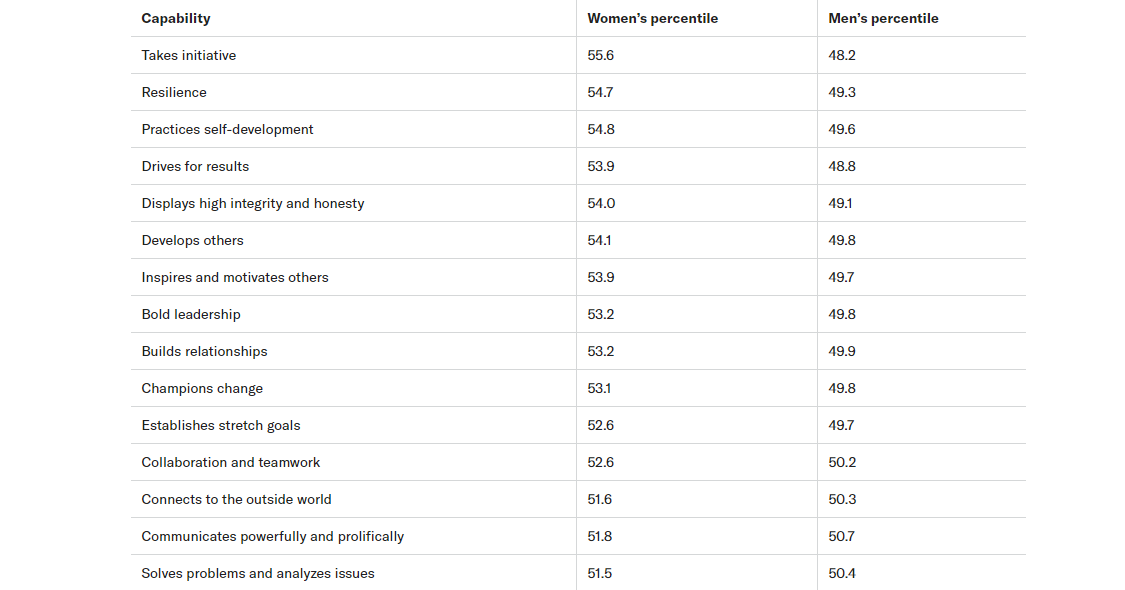 When we look at recent research from Zenger Folkman consisting of thousands of 360-degree reviews, women excelled in the majority of areas, outscoring men on 17 of the 19 capabilities that differentiate excellent leaders from average/ poor ones. The discrepancy between data like this and the number of women in leadership positions is monumental.

Image source: Harvard Business Review 2019
The obstacles for women in the workplace
The percentage of women in leadership is not a lack of competent women, it's the obstacles they face. Research from PEW Research Center states that women are held to higher standards than their male counterparts. In other words, they are required to do more when demonstrating their abilities. A study from the National Bureau of Economic Research revealed that women are also much less inclined to self promote, making this a double edged sword.
The impact of being the minority in the room also has to be considered. When you enter a meeting as the only woman in the room it can be an uncomfortable experience. In fact, research shows that individuals who are the "onlies" (i.e. the only woman/ LGBTQ/ only person of color etc) are subject to more discrimination and bias from the rest of the group.
The work life balance question. This is a question that not enough men are asked. Not only does it assume that women will be the stay-at-home parent, but it assumes that all women want to have families in the first place. In fact, when it comes to questions around raising a family, an increasing number of men are choosing to be the stay-at-home parent, furthermore not all women want to be mothers. And, there are plenty of women who are doing both, just take a look at New Zealand's Prime Minister, Jacina Adern. Both men and women face challenges in their personal versus professional lives. There should be no distinction between the two. Work life balance is needed for everyone, and the more balance there is at home, the more balance there will be at work.
What we can do to address the issues
There are many areas which contribute to a broad disparity in leadership positions, we have only highlighted a few. What we want to concentrate on is how we can proactively combat these issues. If you are in a position of leadership, start with looking at your workplace culture and ask yourself questions such as: does your executive team portray gender diversity? Are we choosing confidence over competence? Are we listening to our employees? Do we foster an inclusive workplace culture during and beyond the hiring process?
An actionable insight when it comes to hiring, is that men will apply for a job they are 60% qualified for, whereas most women only apply if they are 100% qualified. In this respect, create performance-based job descriptions with a focus on what a candidate would be responsible for accomplishing, rather than listing qualifications. When it comes to the interview process, another suggestion is to ensure that you have a diverse panel so that women feel more comfortable.
One of the most impactful actions you can take is to implement a women in leadership programme. Topics that are especially relevant to women should be included such as the art of negotiation, enhancing personal influence within the organization and matching leadership skills to leadership challenges. Women in leadership programmes are incredibly impactful, not just for the women participating, but for company-wide results. According to Women in Business and Management: The business case for change, more than 57% of the 13,000 enterprises in 70 countries agreed that gender diversity initiatives such as women in leadership programmes, improved business outcomes. Furthermore, almost 75% of those organizations who tracked these initiatives reported profit increases of 5-20%. Other notable outcomes include more than 54% of organisations reporting improvements in creativity, innovation in management practices, openness and reported an enhanced company reputation, with nearly 37% reporting it enabled them to more effectively gauge customer sentiment. Similar results have been found in initiatives such as McKinsey's Remarkable Women Programme.
It is clear that organizations who devote personnel time and expense in establishing women in leadership programmes will see a positive ROI. Whatsmore, recent research from McKinsey, suggests that women, more frequently than men, demonstrate leadership characteristics that are highly applicable to future global challenges.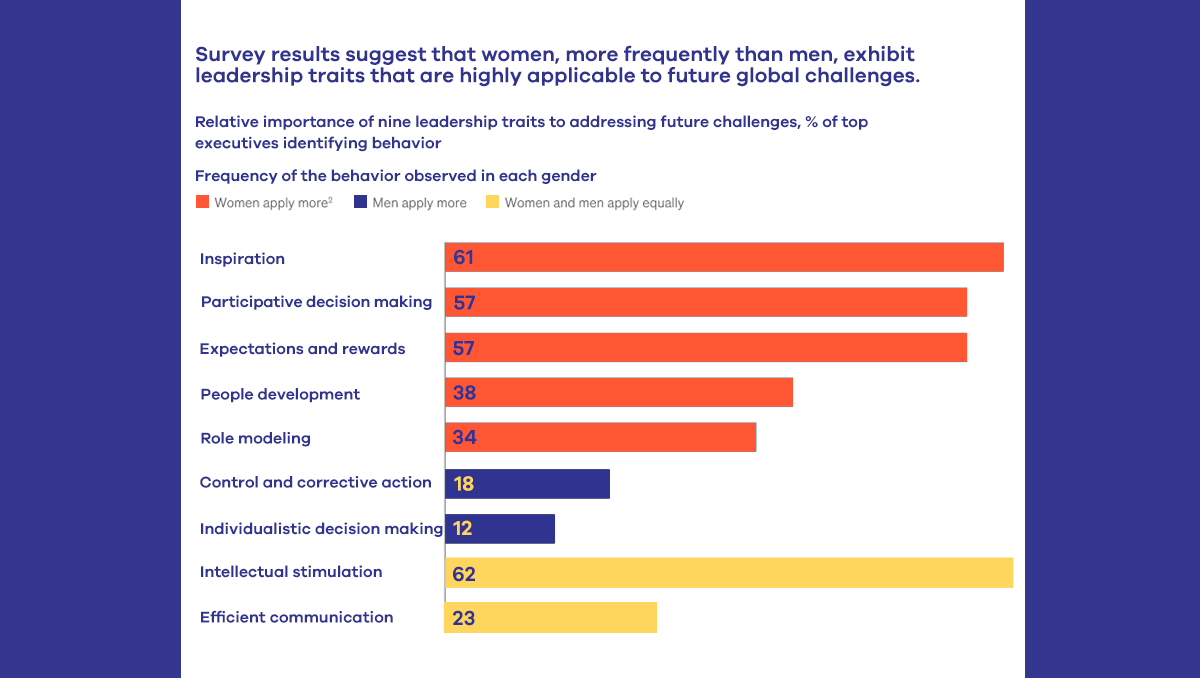 Women in leadership with CoachHub
One way CoachHub partners with organizations is to accelerate their leadership programmes. We pride ourselves particularly in propelling women in leadership and are already partnering with many organizations to drive this forward. The European Bank for Reconstruction and Development (EBRD) is one organization we're working with.
"We chose to partner with CoachHub to support our future female talent programme because of the flexibility of their platform and diversity of accredited coaches. We specifically wanted to focus on a strengths-based approach which CoachHub could accommodate with ease to really build coachee confidence and reinforce the learnings from the programme as a whole to ensure we had a rich pipeline of top female leaders in years to come" 
– Catriona Pitkethly, Principle Talent Development at EBRD.
Download our infographic The Facts and Future of Female Leadership here, or get in touch with us today and discover how we can support your women in leadership initiatives.
Women in leadership: Shatter the glass ceiling!
Advance and support women across your organization.
Discover the program
Want to learn how CoachHub can work for your business?
Request a demo now to learn more about the CoachHub digital coaching platform.