€16m for European expansion – HV Holtzbrinck Ventures, Partech, RTP Global and Speedinvest x invest a further ten million euros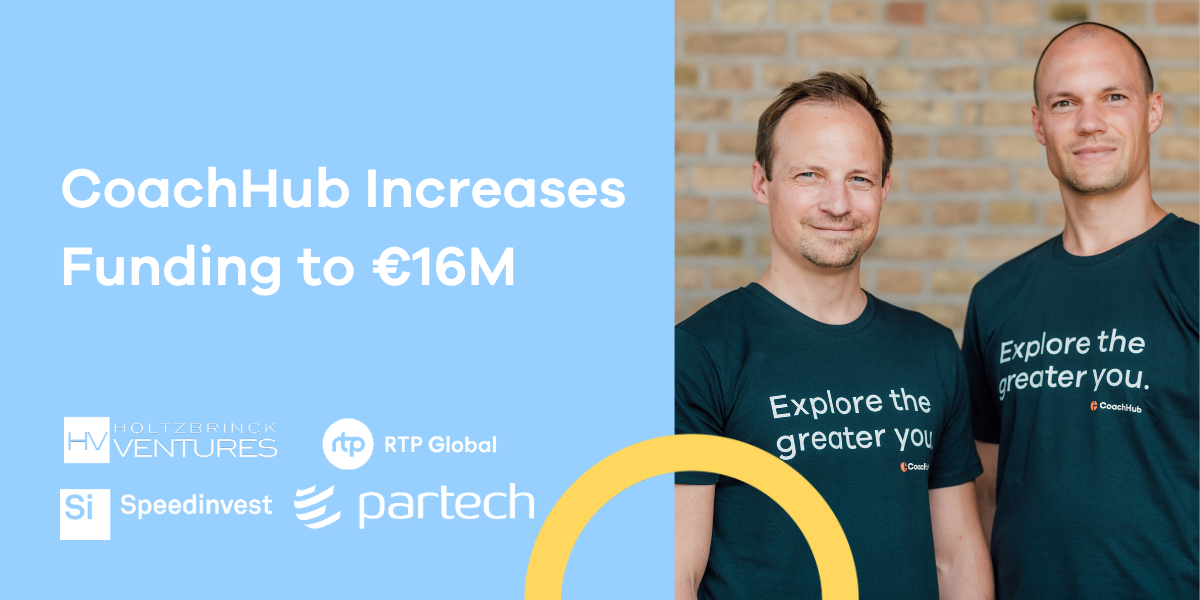 Berlin, Tuesday 12th of November 2019
CoachHub has closed a €10M funding round, from existing investors HV Holtzbrinck Ventures, Partech and Speedinvest x and new investor RTP Global. After raising €6M just three months ago, the latest round brings total funds raised this year to €16M, recognising CoachHub's position as the leading digital coaching provider in Europe.
The funding will be used to accelerate CoachHub's platform growth and grow its global pool of coaches in the UK, alongside all other core European markets, such as France, Germany, Southern Europe, Benelux and the Nordics.
In addition, CoachHub's own research and development centre, the so-called Coaching Lab, will be significantly developed and a further 10 psychologists and scientists will be employed. Coaching Lab is a think tank that drives behavioural research and development in the coaching space. It provides a repository of expert insights and tools to support the development of coachees, such as how to optimise their workplace performance and thrive on a personal level. The drivers behind the Coaching Lab include some of the leading European professors, psychologists, coaches and neuroscientists.
Since it launched in 2018, CoachHub already employs 75 people. CoachHub plans to grow to 200 people by mid-2020 and to establish a strong marketing and sales team of 120 employees, alongside scientists and coaching experts. This makes CoachHub by far the fastest growing European company in this space. CoachHub plans to establish coaching as an elementary part of modern human resource development.
How it works
Companies invite employees to the digital coaching platform, where an AI-based matching system recommends three business coaches that fit the employee's individual requirements and personal requests.
Coach and coachee communicate directly via the CoachHub app on smartphones or desktops. Coaching usually takes place via biweekly video calls and e-learning tasks are available to provide further personal development. Through an integrated chat functionality, employees can reach their coach flexibly. All progress is shown to the employee in a measurable way on an aggregated, strictly anonymous level in the HR departments, in order to track the success of the coaching programs.
CoachHub founder and managing director, Yannis Niebelschuetz, said: "Our customers are seeing measurable results in terms of increased rates of employee retention and happiness. Regular, tailored coaching sessions have been shown to have a positive impact on business and employee performance. However, the reliance of traditional formats on in-person coaching sessions, which is inflexible, time-consuming and unscalable, has kept coaching out of reach for all but the most senior staff. We are fundamentally disrupting the learning and development landscape and democratising access to business coaching."
Andrea Göbbels, Head of Education and Training at Bosch, said: "Digital coaching provides the perfect solution for the training demands of a fast-based business like ours. The flexibility of CoachHub's platform is one of the reasons why our employees love it – they can communicate with their coach anywhere and at any time."
Want to learn how CoachHub can work for your business?
Call us on +44 (0) 20 3608 3083 email us (mail@coachhub.com) or contact us below for a demo.